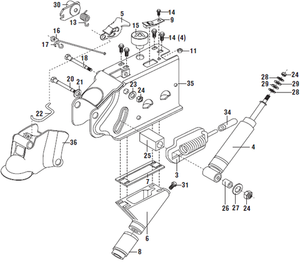 Atwood Hydraulic Brake Actuator Parts List and Schematic
Atwood's Unique Design for Superior Braking
Unique design creates more pressure on the brakes than in-line actuator systems.
Parts interchangeability between 6K and 8K actuators.
Lock-out feature allows use with standard hydraulic brakes for backing up. No need for specific free-backing brakes.
Disc brake actuators available specifically for use with disc brake systems. Supplies, even more, fluid pressure to brakes than standard hydraulic.
A breakaway device will set trailer brakes automatically should separation from tow ball occur.
Ordering Replacement Atwood Parts
Replacement Parts are no longer available, but we recommend using the UFP A-60s or A-75s. Some modifications may be needed. Possibly drilling new holes. 
Atwood Hydraulic Surge Brake Actuators for both DIsc and Drum Brake Applications.
Atwood 6,000 lb. Capacity Brake Actuators Include Model numbers: 82543, 83153, 84132, 84133, 88730, 88740
Atwood 8,000 lb. Capacity Brake Actuators Include Model numbers:
83000, 83005, 83010, 83060, 8036
---
93 comments