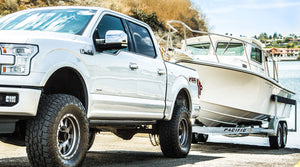 Boat Trailer Parts
New Boat Trailers
Boat Trailer Repair Service
About Pacific Trailers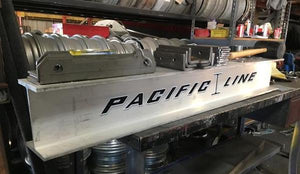 Check Out Our New Aluminum Boat Trailers!
The new Pacific Boat Trailers "I-Line" series of all aluminum I-Beam boat trailers. Built to last, built tough. Call today for pricing and availability: (888) 479-6920
Boat Trailer Parts
We offer a wide variety of boat trailer parts and accessories. Whether you're looking for boat trailer axles, brakes, wheels, fenders or any other minor or major part, Pacific Trailers has you covered.
Pacific Boat Trailers
Pacific Boat Trailers has been providing exceptional service and value since we started back in 1971.
Our goal is to continue to provide you with the highest quality boat trailer parts at the best price. Whether you are a weekend enthusiast or a year-round boating fanatic, Pacific Boat Trailers offers the highest quality and performance in new boat trailers, trailer parts and accessories, storage, and repairs to get you to the water faster with no hassles.
Avid boaters are always mindful of the importance of having the right equipment and keeping it in top condition. Boat trailers need to withstand the tough demands of all types of road, water, and weather conditions while maintaining balance, safety, and support of your boat.
New Boat Trailers vs Used Boat Trailers
When looking for a boat trailer, you'll have to wiegh the difference between a new boat trailer or to search online and find a used boat trailer. While this is very similar to buying a new car vs a used car, boat trailers have much simpler mechanics and a well-built used trailer can be brought back to a long and healthy life with the right boat trailer parts. You'll have to decide which route will give you the best bang for your buck.
But whichever you choose, Pacific Trailers has you covered!
Purchasing a New Boat Trailer
Purchasing a new trailer means there are several style and function decisions to make to accommodate your boating needs. Pacific Boat Trailers has knowledgeable and friendly experts who help make these decisions for you based on your boating habits and budget. Here are some of the considerations we must make when it comes to trailering choices.
Types of Boat Trailers
Boat trailers come in two main styles, bunk or roller. Previously, manufacturers created trailers for larger boats with wobble rollers while traditional bunk trailer designs fit smaller styles of boats. These days, with improved technology and craftsmanship, you can find bunk trailers carrying larger boats even longer than 30 feet.
At Pacific Trailers, we recommend bunk trailers. The bunks are designed to make contact with the hull of the boat at every point. Since most roller trailers are more of a general fit, bunk trailers offer a more custom and a tighter fit.
Bunk trailers are designed to cradle the hull of the boat and offer the most economical choice for transport as they have fewer parts to maintain. They are designed to be launched in deeper water where the boat can float-on and off the trailer. This means the trailer enters the water farther than a roller trailer requires for launching.
Bunk trailers provide support that makes them the optimum choice for some boats with thinner hulls. Check your boat manufacturer's specifics to see if they make a recommendation of one style over the other.
Single Axle vs. Tandem Axle
Trailer axle classifications include single axles with one set of wheels and tandem axles which can be two (dual-axle) or three (triple-axle) sets of wheels. Depending on the size and weight of the boat, we will determine whether a single-axle or tandem-axle trailer is the better choice for your boat.
Single Axle
A single axle trailer with only one set of wheels can be a bit easier to maneuver. They are easy to handle when parking spaces are scarce or there is little wiggle room. Because of their small size, they are more fuel efficient and towing is easy to handle due to a lower weight and easy to adjust towing angles. Cost wise, single axle trailers are lighter and are more inexpensive to tow.
They also have simpler structures to maintain due to only having one set of wheels. Keep in mind that these tires will wear faster than tandem tires due to having to carry more of the weight.
Tandem Axle
Tandem axle trailer designs include two sets of tires in close proximity to each other to help disperse the weight of the load. This permits the trailer to accept heavier cargo, up to three times what a single axle can manage, which means more carrying and transport capacity. Not only that, tandem axle trailers allow for more stability with faster highway speeds. In these conditions, you won't experience a lot of bounce or swaying. Higher payload, faster speed, and stability make for more hauling output.
Types of Finishes
After modification and construction of a boat trailer, the final stage is finishing. Finishing not only brings out the beauty of the trailer, but also the aspect of durability. This is because the type of finishing can determine if the boat will operate best in fresh or saltwater.
Painted Finishing
Painted boat trailers provide the custom color and graphics options to make your boating package stand out on the road. The biggest determining factor for whether a painted boat trailer will be best for you is whether you will be launching in saltwater or freshwater.
Galvanized Finishing
For a maximum resistance to corrosion from saltwater, component parts and frames are galvanized with a hot-dip galvanization finish. This creates an extremely resistant saltwater coating that is the most effective. It is coating steel or iron surfaces with zinc.
Aluminum Finishing
The main benefit to aluminum frames is that they are lighter and don't require a separate coating. They reduce resistance to movement which results in efficient gas mileage.
Aluminum finishing does not only serve to reduce corrosion but also to enhance surface structure, improve hardness, increase electrical insulation, improve wear resistance, and reflectivity. Not to mention, a well done aluminum finish looks amazing hauling down the road carrying your favorite watercraft.
Experience to Guide You
Strong, balanced, safe, and made to last, Pacific Boat Trailers are designed to be the perfect complement to any type of boat or watercraft. Browse through our online catalog to find everything you need to make maintenance and upkeep of your investment simple and worry-free. We're always standing by to help with any needs or questions you might have.
Testimonials
Excellent service, great website, very easy to use, quick shipment and tracking, great price... Great Experience!! Highly recommend!!!

Gary S
Great group of people. Very knowledgeable, and extremely fair prices.

Herman S
Over multiple orders the staff and service have been great. I also like the updates from order taken through delivery.

Marc F
I needed some bearings packed on my trailer and I was in a rush. The staff went above and beyond in assisting me. Not only did they do the services requested, but also repaired some issues I hadn't known were there. Re-wiring my brakes for no additional cost. They also build their own axles. So there is no cost for shipping when replacing axles. Great location and friendly staff at a reasonable price.

Jonathan M
When it comes to boat trailers, Pacific Trailers is the best. Their service and quality is second to none. I replaced a trailer that came with my boat that didn't hold up over time and ocean exposure. The replacement trailer from Pacific Trailers has stood the test of time and harsh marine service. These guys know trailers!

Brian B
Popular Brands We Carry